KID ROYAL  is Maggie Sire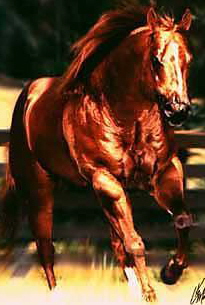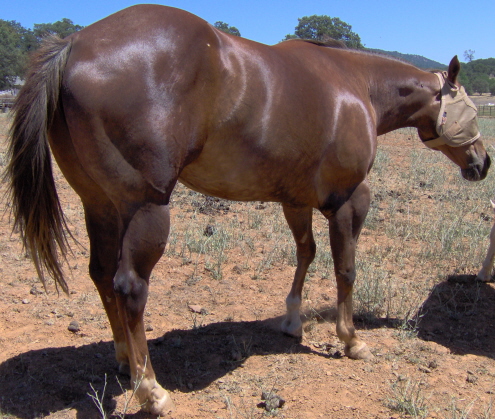 LIL MISS DUSTER TOO

2007 Mare

      (aka Maggie)

APHA 930018

Chestnut Tob/Ovr with blue eyes

Hypp n/n  16 hd.


Click on pedigree to view  extended pedigree on

all bred pedigree

to come back to this web site click on the back arrow up in your browser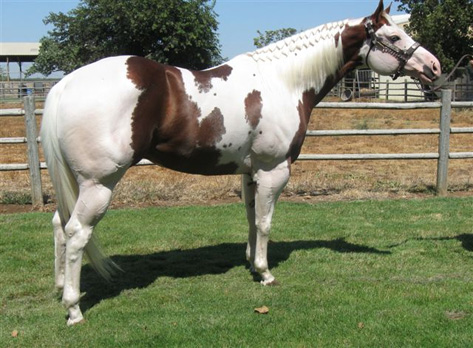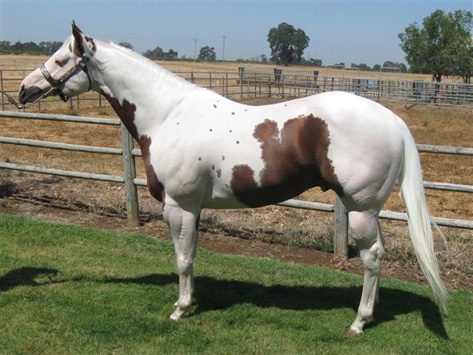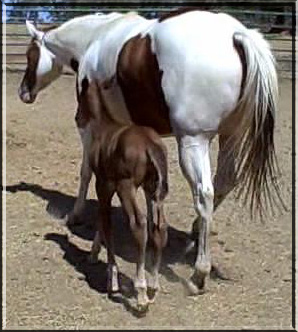 Above picture is Maggie's Sire Kid Royal

Above picture is Maggie's Dam Miss Lucky Duster

Above picture is Kid Clu Maggie's grandsire

Maggie foaled a Colt on September 7, 2010, he is a dark chestnut, minimal marked Overo and has blue in one eye, to see her 2010 colt click 
HERE
to go to his page.
This mare is very stout , and has a great disposition, she is hypp n/n

16 hd. big chest, huge hind quarters nice top line. will stand tied for hours and will not pull back. You can walk right up to her, in the 7 acre pasture and she is the first one at the gate, then you can put her halter on with no problem. Then  walk right off and she will follow you, she is an in your back pocket type of mare, very sweet and friendly and want's to be your buddy.

She gets a long with the other horses, bottom of the peeking order. Maggie had her foal  with no problem and her 2010 colt sold at 3 days old. I am still getting calls about the colt. One person wanted me to contact the person that  purchased him and offer her more money then what they paid.This mare is Open.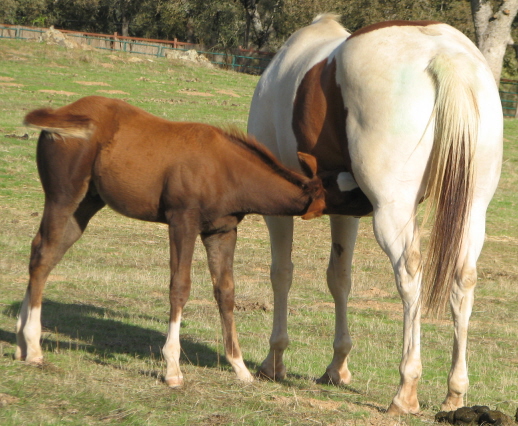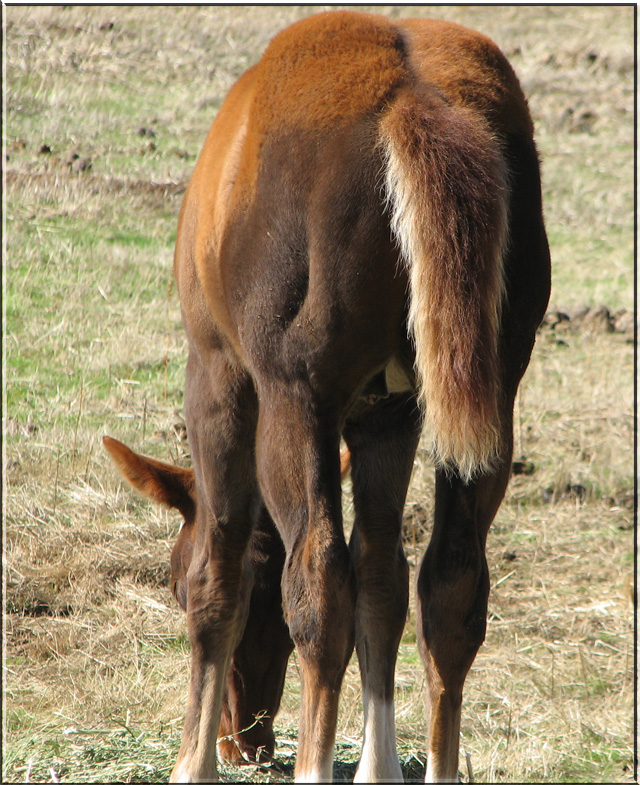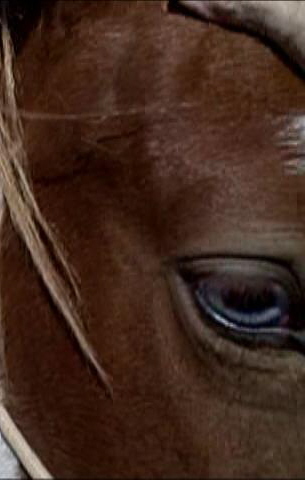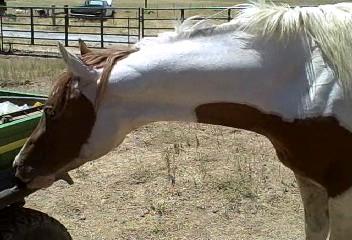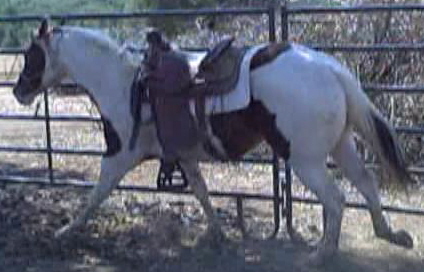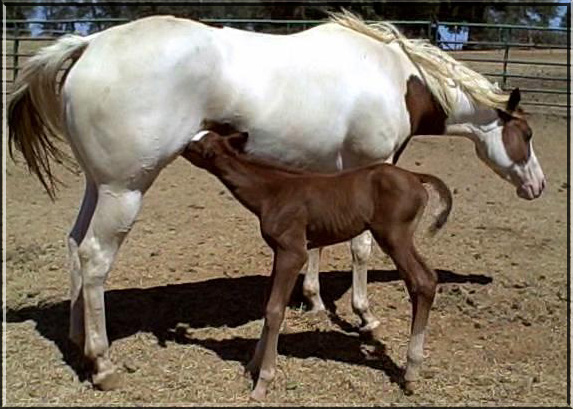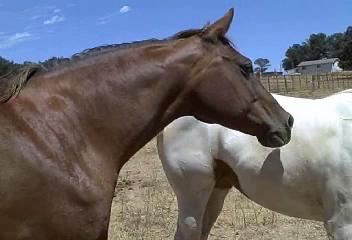 Click onto small

pictures to

see enlarge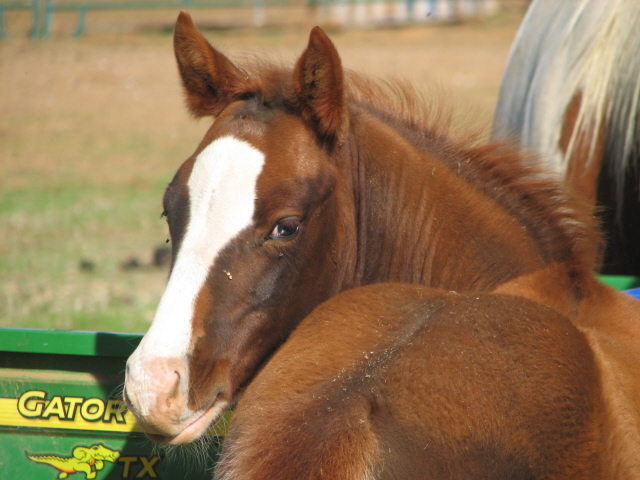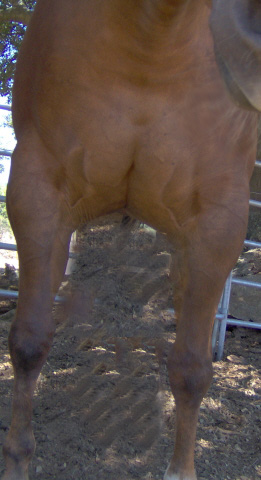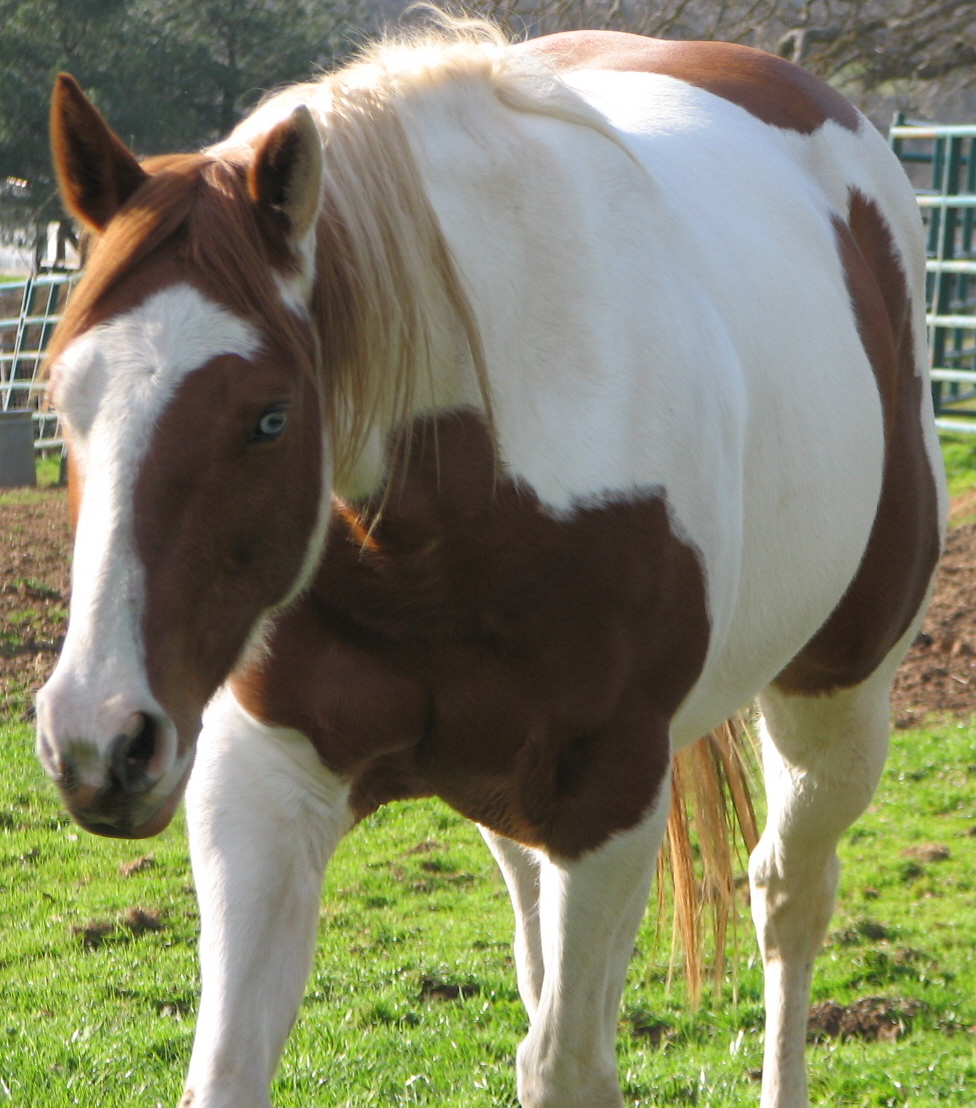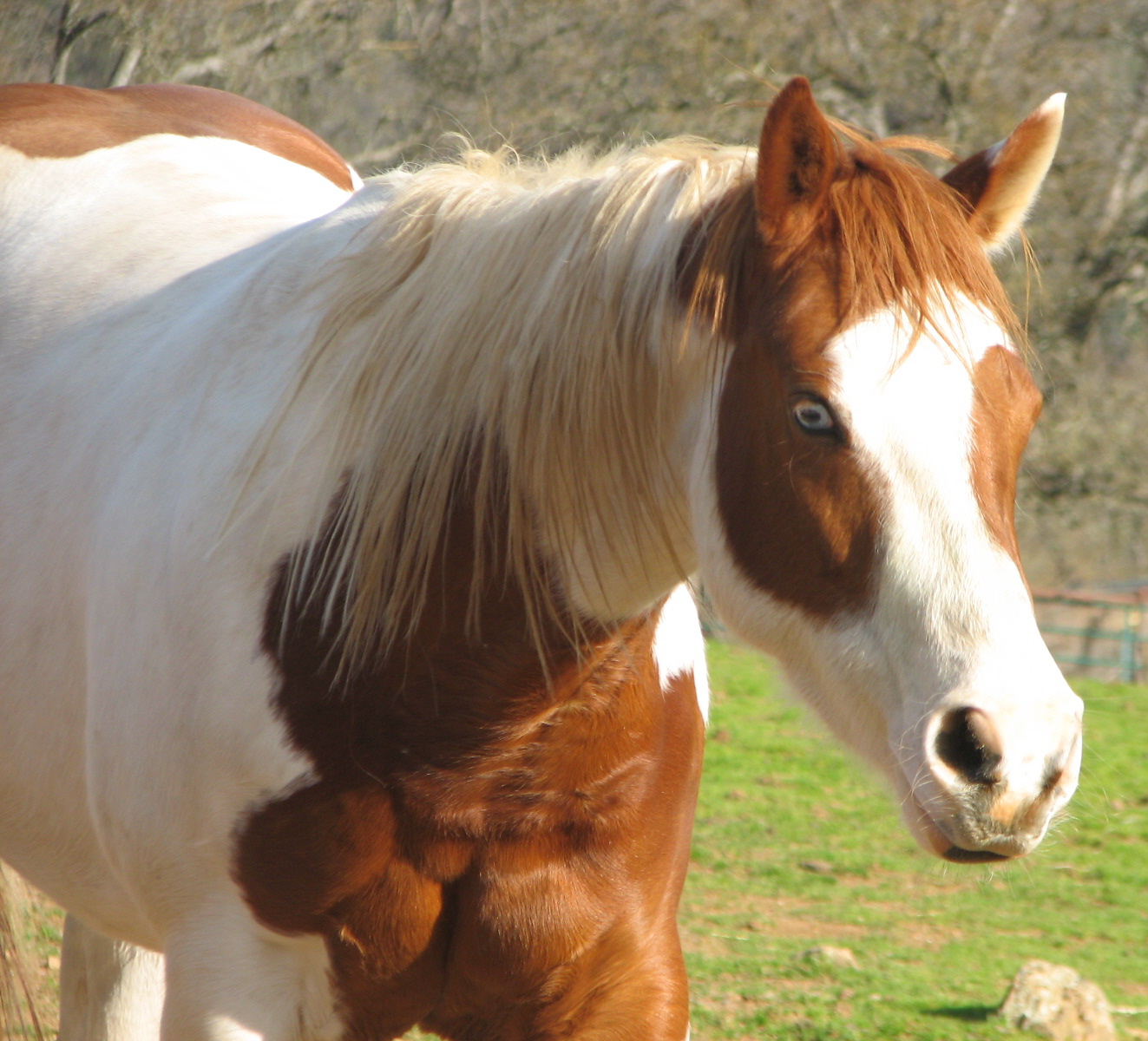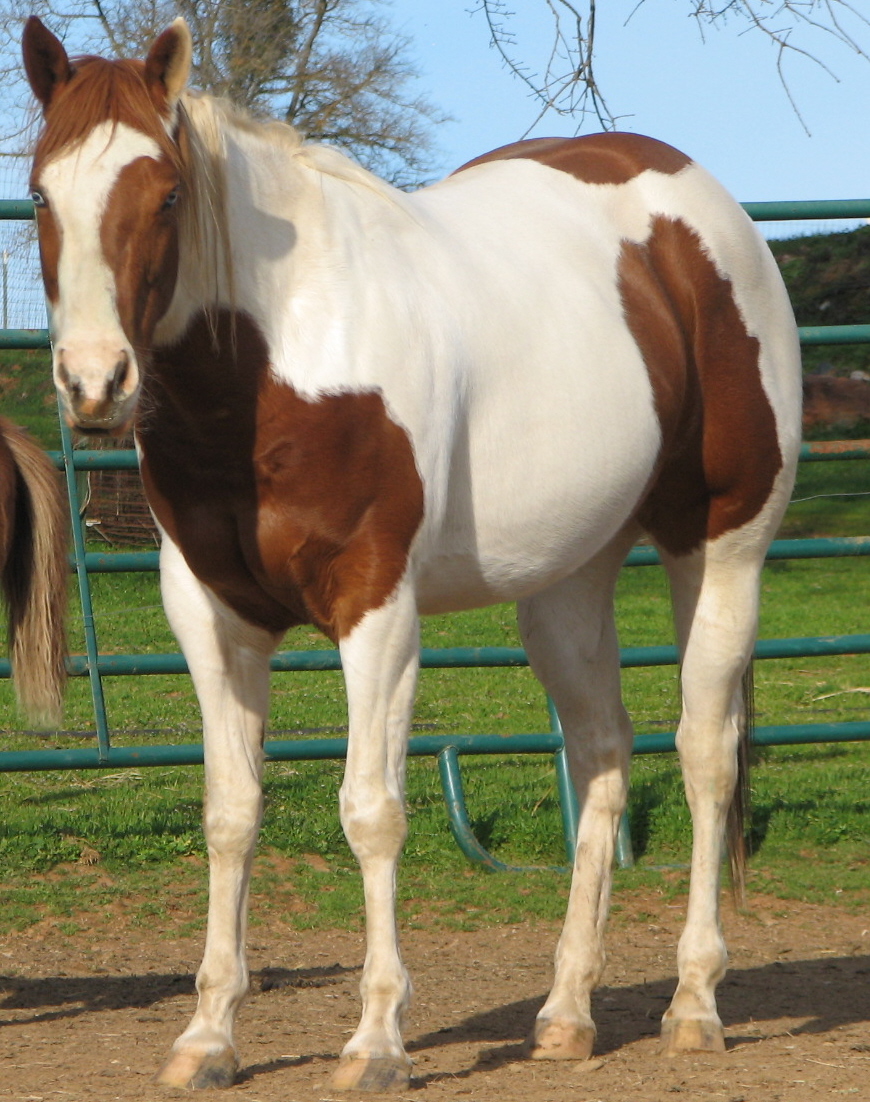 Update Maggie is in training with a trainer, she will have 60 days under saddle. She is in Southern California Lancaster  This is an awesome mare, she has the biggest hip and  on her, neck ties in high, this is an awesome mare. Price is subject  to change as her tanning countries.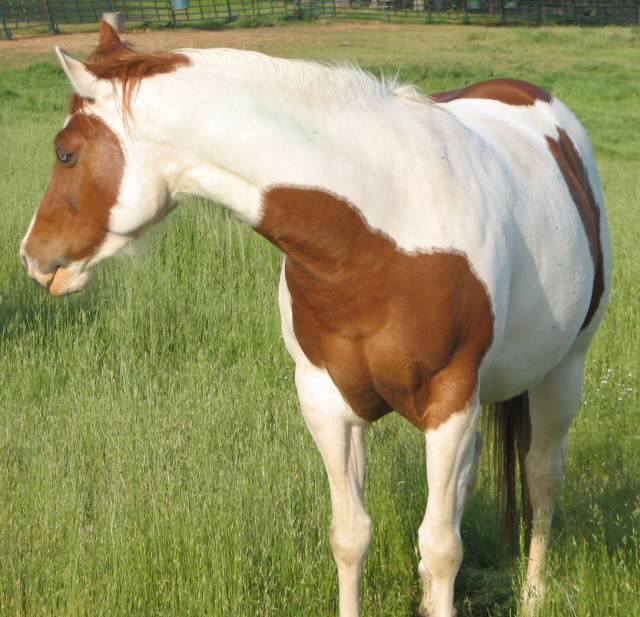 Click onto small pictures to see enlarge.

Hypp n/n 16 hd. tall and 1400 lbs.

Maggie's  trainer will be having a weekly update on her progress

6/18/2011 Maggie:

Worked Maggie in the round pen today. This mare show natural talent and ability to "get down and move."

I asked her to reverse. She dropped her body down to the second rail from the bottom of the 5 rail fence.

I paused thinking she had tripped and was going down, but instead she snapped up, pushed off and continued on,

not even missing a beat!

Maggie is very catty.She knows where her feet are and gets down with some very fancy movement on her own.

I will start her on the barrel pattern and also the patterns for Mounted Shooting. She has more forward movement than Opal.

When turned out Maggie really moves around and covers alot of ground. She seems to always be in control of her body. Very athletic.


Update 6/30/11

Today was Maggie's big day out. I saddled and bridled her and tied her to my trailer. She behaved very nicely. I ponied her off my five year old mare and down the street we went. Maggie wasn't bothered by barking dogs, motorcycles,flapping trash cans, trash blowing.

There was a for sale sign swinging back and forth in the wind. It had a chain around the pole and was clanking. I asked the girls to move up to the sign and "touch it". My mare reached out and firmly planted her nose right in the middle of the sign. Maggie watched my mare, then copied her exactly.  Maggie did the same when I rode over and through some logs and brush. My mare rode straight through stepping carefully through the sticks, Maggie followed exactly where my mare rode first.

I have mounted Maggie, putting my left foot into the stirrup and lifting my body up. I have not thrown a leg over her and sat on her yet, this weekend I will.



7/23/11

Today was Maggies big day out for trail riding. Well actually being ponied. She hasn't been in my trailer since I brough her to my ranch in June.. She stepped up very nicely and with just a little sweet talking.

Maggie handled those hills like a champ. We rode for about two hours. Up hills, down hills, four Aussies running amuck all around us. Stepped through heavy brush up to her belly.. All done perfectly and in stride.

Maggie watched the trail, knew where her feet were and balanced along little goat trails like a pro.. She kept up with the horse I rode who walks out very fast. Maggie didn't appear to get tired and never refused anything or to go anywhere.

I think she just might make a very nice trail horse too.

7/25/11

I have set up a obsticle course at my barn. Well actually the horses believe it is boot camp from Hell....

Lots of blowing things, hung lots of trash bags on the fence, with a double row of flags on the opposite side, and bags to step over  AKA: Trash Alley.

I have a shiney sign, tires to navigate, a  huge telephone pole for side passing, a huge blue tarp, caveletties and a jump. I also have a spool that I stand on and ask the horses to move around and walk away from me to work the obsticles by them selves.

Maggie handled everything well. She does require lots of praise and reassurence. She does have a tendency to want to rush things she is not sure of. She reminds me of a kindergartner who really doesn't want to do the homework, so she rushes through it sloppily thinking "Ok, I did it".. Yes, and you'll do it again, and agian till I say so... After we worked the obsticles I loaded her into the trailer by herself. Her new nick name shall be "Speeding Bullet". I've never had a horse load so fast!!  But she did it perfectly.

8/1/11

I hauled Maggie to another trainers ranch. She specilizes in running barrels and runs a kids training on barrels.

Maggie loaded into the trailer like a champ. I worked her in the round pen and walked her all over the ranch. I've decided Maggie is a rather vain girl.. She loved all the attention she recieved from all the kids. They loved her pretty blue eyes and her color. All the kids petted Maggie and complimented her. She ate up all this attention. Her head was down and she nuzzled the kids.

Two of the older teenagers offered to "help me" train her to a rider. We took Maggie into the round pen and I had one of the girls work Maggie. I was very pleased to see Maggie behave for somebody different. She never cheated the girl and did everything that was asked of her. The teenagers loved all over Maggie. We walked her around with the rider on her back. They helped each other mount up and we worked both sides. Maggie behaved like the perfect horse. Her temperament was so soft and willing. She never acted unsure or scared. The neighbor across the street dragged a trash can out and made lots of noise. Maggie raised her head looking, but never moved her feet. the girls were very impressed with that. They compliemented Maggie on how she handled the ruckus.

I feel that Maggie would do very well for a younster that would work her every day and love all over her. I know that if the owner spent lots of time, as an only horse Maggie will turn into a very nice well rounded handy little mare..

Maggie was tied at my trailer and the lead rope latch came loose. I was mounted in the arena and looked out to see Maggie calmly walking away from the trialer. I trotted out of the arena and straight up to Maggie. I caught her by the halter and lead her back to the trailer ponying her off  the horse I was riding. Maggie didn't try to run from me and didnt pull back as I ponyied her with no lead rope.